PREXTHAN cables are also used in raw surroundings. The tear-resistant and notch-resistant PREXTHAN coating can withstand lots of extreme external influences despite high mechanical stress.
PREXTHAN cables are extremely robust, even when faced with abrasion and grinding, and boast good long-term flexibility. With good tensile strength and bend-proofing, they are sure to impress with their long lifecycle especially in dynamic applications. Due to their restoring force, they are especially suited to use as spiral cables.
ALMI type MARO robot cables are ideal for applications with a high level of mechanical, thermal and chemical stress on the cable's stability. MARO cables are also a good choice for areas of application that require suitably high cable flexibility in terms of acceleration, tensile force, compression, torsion and frequent bending cycles. There are also applications that have good to very good resistance to high temperatures, beads of sweat, oil and chemicals.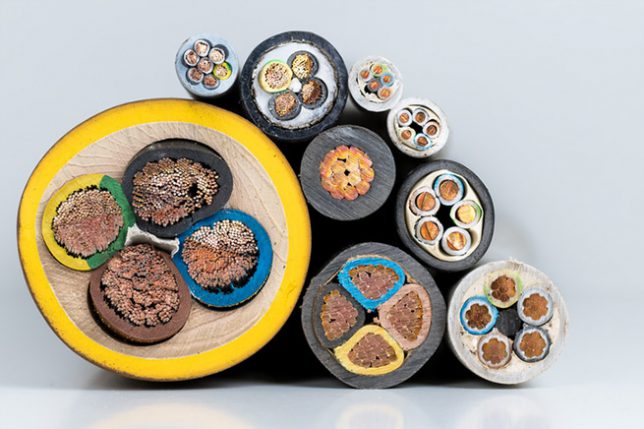 Features
Heat & Cold Factor
| | |
| --- | --- |
| Cold-resistant & temperature-resistant | -40° C to +90° C |
Flexibility Factor
| | |
| --- | --- |
| Flexible | Very suitable |
| Cable trolley | Very suitable |
| Cable track | Very suitable |
| Spreader | Very suitable |
| Torsion | Very suitable |
| Reelable | Very suitable |
| Robot | Very suitable |
Resistance Factor
| | |
| --- | --- |
| Chemicals, solvents | Well suited |
| Oils, fats | Well suited |
| UV, ozone, weather | Well suited |
| Abrasion-resistant | Well suited |
Typical Applications
As drag chain cables in packaging technology, plant manufacturing, robots, recycling, the automobile industry and in machine controlling; MARO for handheld tools such as mobile and stationary testing and diagnostic devices, lifting devices and special crane systems, free-moving terminals
The product description reflects the general Alfred Michels GmbH & Co. KG product range. Further custom productions are possible: depending on the design (wire count x cross section), various applications are available ex warehouse, new productions from 100m.
Possible applications should be clarified on a case-by-case basis. Just get in touch. We'd be happy to advise you.