ALMI HY-S tubing is extremely robust and especially stands out with its heat-resistance in combination with its mechanical robustness in industrial applications. HY tubing has proven itself in environments with aggressive substances such as casting powder.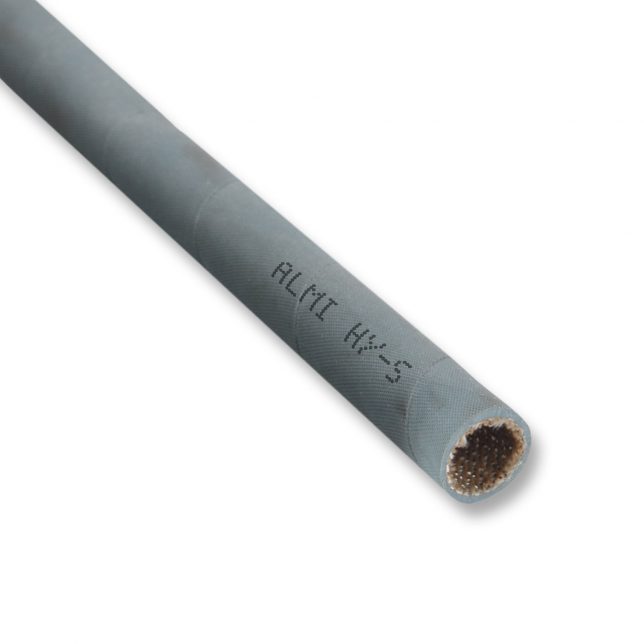 Material
Inner coating: Fiberglass, hypalon
Exterior coating: Hypalon
Coating color: light grey
Permits and approvals
IP 67 in compliance with EN / IEC 60529
Dimensions
Walls from 2mm +/- 0.5 thick
Nominal width of connector from 12mm
Attributes
Heat & Cold Factor
| | |
| --- | --- |
| Cold-resistant & temperature-resistant | -40° C to +140° C |
| Temperature peak | +800° C |
Resistance Factor
| | |
| --- | --- |
| Chemicals, solvents | Very suitable |
| Oils, fats | Very suitable |
| Abrasion-resistant | Well suited |
More features
Highly flexible
Aging-resistant
Radiation-proof
Self-extinguishing and non-flammable
Typical Applications
Cokery furnaces, pig iron mixers, converters, pan treatment stands and continuous casting lines in the steel and iron industry, aluminum industry and foundries; for control gear in aggressive environments at chemical and petrochemical facilities; aircraft and shipbuilding, cable tubing for gas and liquid media.
Design
Can be customized to meet customer requirements
Various seal technologies available
Packaging unit from 20m, up to 40m on request
The product description reflects the general Alfred Michels GmbH & Co. KG product range. Further custom productions are possible: depending on the design (wire count x cross section), various applications are available ex warehouse, new productions from 100m.
Possible applications should be clarified on a case-by-case basis. Just get in touch. We'd be happy to advise you.