The ALMI HY-S II sheet stands out with its heat-stability in combination with its mechanical robustness in dynamic applications.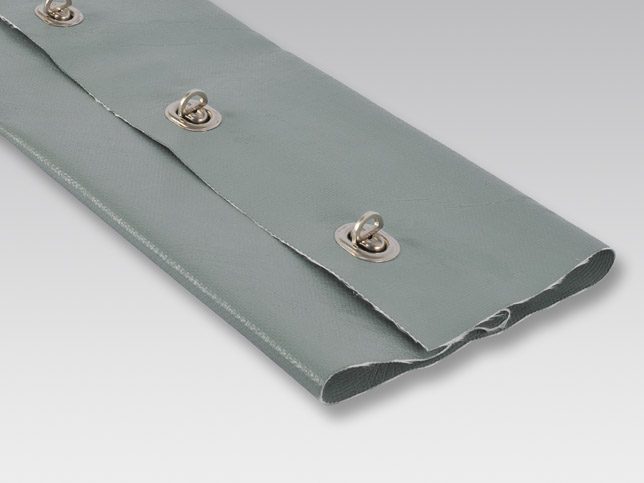 Material
Inner coating: Fiberglass, hypalon
Exterior coating: Hypalon
Coating color: light grey
Dimensions
Thickness approx. 1.5mm +/-0.3
Density approx. 1,260 g/m²
Attributes
Heat & Cold Factor
| | |
| --- | --- |
| Cold-resistant & temperature-resistant | -40° C to +140° C |
| Temperature peak | +800° C |
Resistance Factor
| | |
| --- | --- |
| Chemicals, solvents | Very suitable |
| Oils, fats | Very suitable |
| Abrasion-resistant | Not specified |
More features
Flexible
Aging-resistant
Radiation-proof
Flame-resistant up to 800°C, self-extinguishing, non-flammable
Typical Applications
In the steel and iron industry, aluminum industry and foundries; for switching systems in aggressive environments at chemical and petrochemical facilities; aircraft and shipbuilding
Design
Can be customized to meet customer requirements
Options
Also available as tubing and made into a cuff
The product description reflects the general Alfred Michels GmbH & Co. KG product range. Further custom productions are possible: depending on the design (wire count x cross section), various applications are available ex warehouse, new productions from 100m.
Possible applications should be clarified on a case-by-case basis. Just get in touch. We'd be happy to advise you.