The endless, especially treated fiberglass used in ALMITUBE II tubing reduces the impact of heat radiation on the interior cable. It is resistant to hydraulic liquid, lubricant and fuel.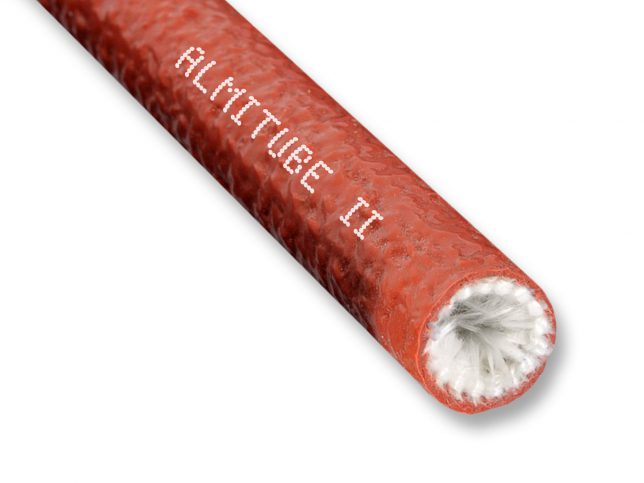 Material
Inner coating: Fiberglass (E-fiberglass knitted)
Exterior coating: Silicone
Coating color: red (some widths also available in blue, yellow, grey)
Dimensions
Wall thickness of 2.5mm depending on diameter
Attributes
Heat & Cold Factor
| | |
| --- | --- |
| Cold-resistant & temperature-resistant | -55° C to +260° C |
| Temperature peak | +1600° C |
Resistance Factor
| | |
| --- | --- |
| Chemicals, solvents | Very suitable |
| Oils, fats | Well suited |
| Abrasion-resistant | Not specified |
More features
Very flexible
Aging-resistant
Non-flammable
Non-flammable and resistant to small amounts of liquid iron or slag
Typical Applications
Steel and iron production, heavy industry
Design
Can be customized to meet customer requirements
Standard nominal widths 6-127 (1/4 to 5") available in individual lengths up to 30m
The product description reflects the general Alfred Michels GmbH & Co. KG product range. Further custom productions are possible: depending on the design (wire count x cross section), various applications are available ex warehouse, new productions from 100m.
Possible applications should be clarified on a case-by-case basis. Just get in touch. We'd be happy to advise you.