Cables with the special SUPREX coating are ideal as connector and control cables for machinery and equipment for especially raw applications.
The outer SUPREX® coating fulfils the strictest requirements for resistance to tears and abrasion as well as notch-tensile strength and can be used anywhere where extreme mechanical stress is expected.
Special seal technology withstands even extreme torsion, which is especially handy for use in crane control.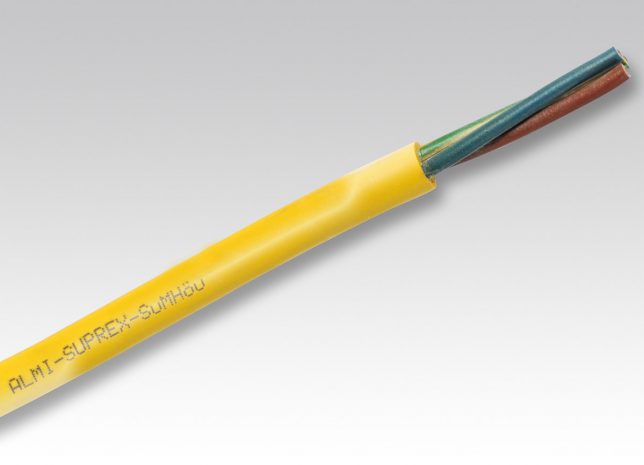 Features
Heat & Cold Factor
| | |
| --- | --- |
| Cold-resistant & temperature-resistant | -40° C to +90° C |
Flexibility Factor
| | |
| --- | --- |
| Flexible | Very suitable |
| Cable trolley | Very suitable |
| Cable track | Well suited |
| Spreader | Very suitable |
| Torsion | Well suited |
| Reelable | Very suitable |
| Robot | Conditionally suitable |
Resistance Factor
| | |
| --- | --- |
| Chemicals, solvents | Well suited |
| Oils, fats | Well suited |
| UV, ozone, weather | Very suitable |
| Abrasion-resistant | Very suitable |
Typical Applications
As power, control and measuring cables in conveyor and crane technology, automation and production lines, machine building
SUPREX Cables
SuMöu
For smaller devices with maximum medium stress (e.g. as a connection cable for light workshop equipment)
Suitable for use in industrial water and brackish water thanks to tear-resistant coating
SuSHöu
For heavy machinery and a high level of mechanical stress
Can also be used for fixed installation
Application in agriculture, heavy industry, conveyor technology, traffic technology and chemical industry
SST(f)öu
Reelable, movable power and control cables
LMSuVöu
For lifting magnets, heavy agricultural machinery and underwater pumps
SuKTöu
Also suitable as special cables for large self-supporting cables
The product description reflects the general Alfred Michels GmbH & Co. KG product range. Further custom productions are possible: depending on the design (wire count x cross section), various applications are available ex warehouse, new productions from 100m.
Possible applications should be clarified on a case-by-case basis. Just get in touch. We'd be happy to advise you.